number of above ground floors
The complete construction and renovation of the Galvaniho Business Centrum was carried out by Lindner Group, during which high-quality products, manufactured by the company were installed. More information can be found at: www.lindner-group.com
The group is one of the biggest manufacturers of construction and interior design products in Europe, a market leader in the manufacturing of raised floors and suspended ceiling products and, through its subsidiaries, it has also been present in Eastern Europe since 1991. Lindner Group operates on a global level and has participated in a number of projects including:
– Construction of the airports in Frankfurt, Hong Kong,
it participated in the construction of several major office buildings all across Europe, such as that of the Sony Centre in Berlin, the geadquarters of Deutsche Bank München and the Centralbank in Frankfurt.
The material and colour design of the whole building corresponds to the surrounding environment, into which it fits, but at the same time forms a natural ideological dominant. The building combines the latest technologies with a pleasant, efficient and humane working environment. From the common areas on the 5th floor in the central core, it is possible to exit to the common terraces. These are used to relax during working hours.
Intelligent environmental management system within the building
Comprehensive security and monitoring system for the entire building using chip identification cards with a wide range of uses with optional adaptation it to different security standards
Exterior blinds on South façade
Suppression of geo-pathogenic zones
Landscaped roof, and inner green atriums
Optional natural ventilation
Unlimited access to the premises
Continuous technical maintenance
use of green energy produced from renewable energy sources
The Galvaniho Business Centrum III building has a T-shaped floor plan with two inner green atriums. It is divided into three blocks with separate entrances with a reception (A,B,C) with a total leasable area of 20,610.95 m2. The building ensures maximum variability and flexibility of leased space. The building's range and design offers optional changing its size and layout of the leased premises without changing the address.
Services at the ground-floor
In the building there is a self-service restaurant, a coffee-bar, groceries, ATM, car wash, furniture stores.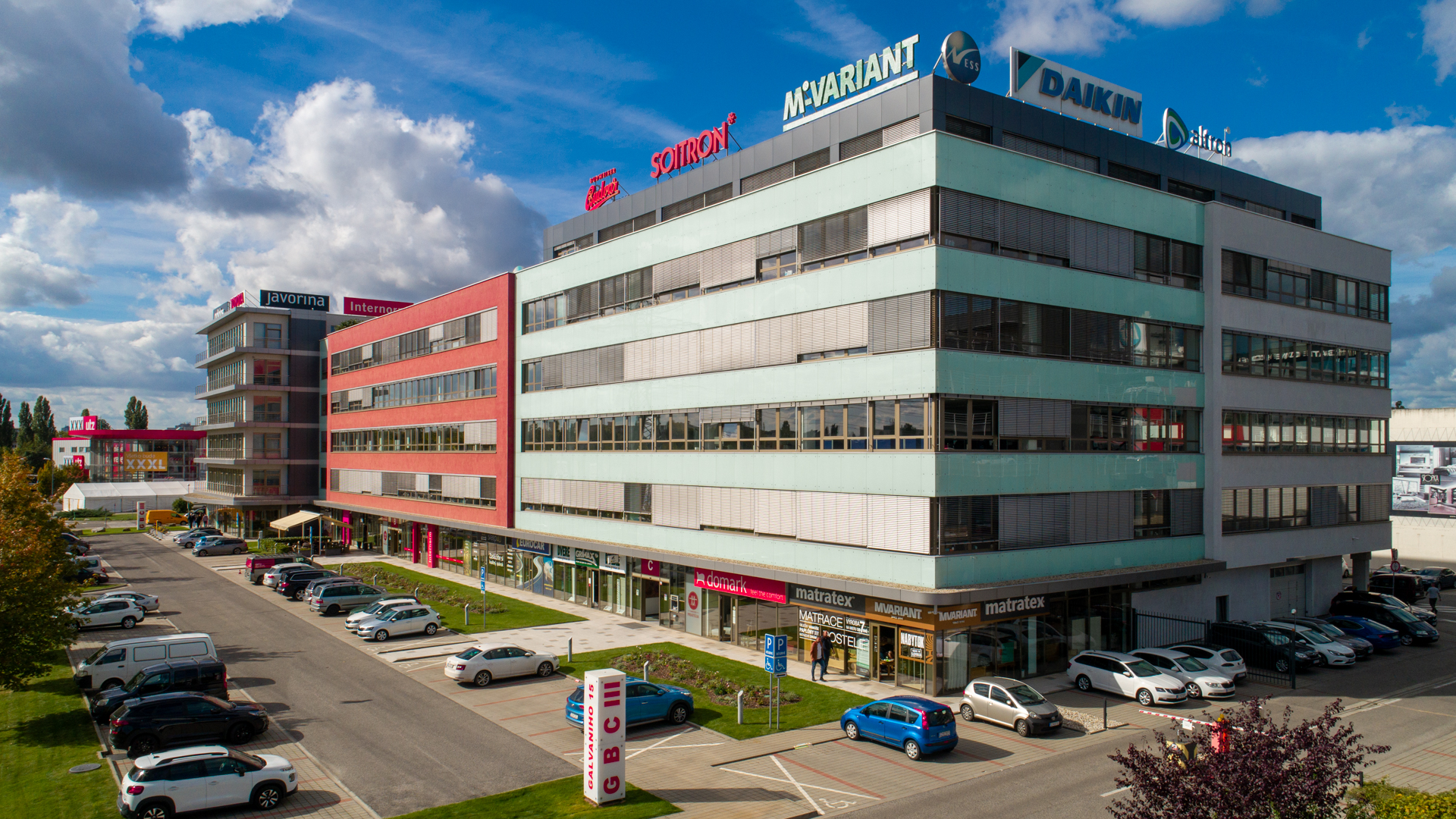 For tenants there are 200 outdoor parking spaces and 305 parking spaces in the underground garage. In the underground garage there is also a lockable space with bicycle stands.
A great place for your business
Galvaniho Business Centrum III is a part of the easily accessible and developing business and administrative centre of Bratislava between the streets Galvániho, Ivánská cesta and the motorway bypass. The location provides above-standard accessibility for tenants and visitors. In the vicinity there are 4 * and 3 * hotels, and right in front of the building there are a bus stop, bicycle rental, electric car sharing.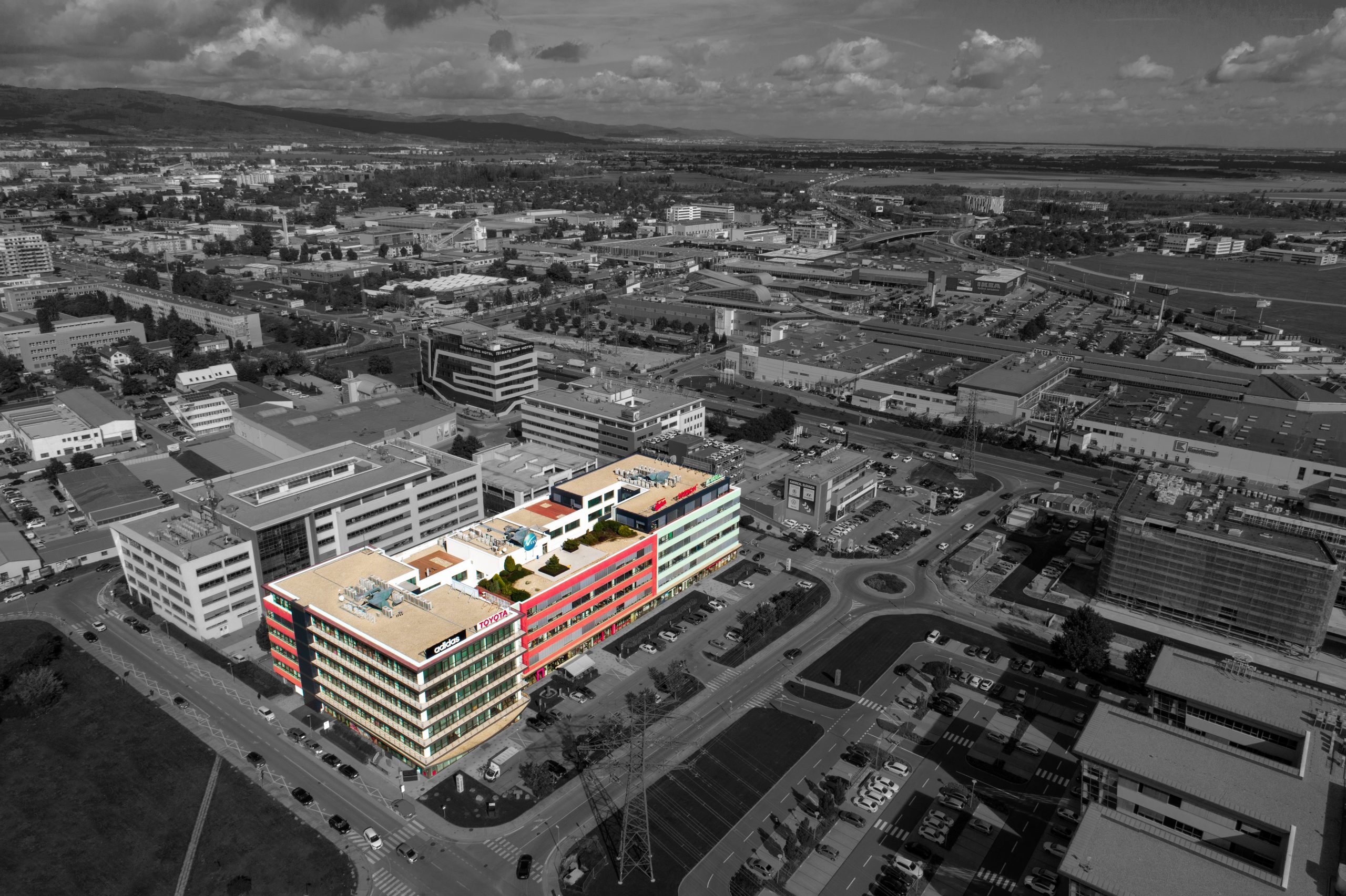 Address
GALVANIHO 3 s.r.o.
Galvaniho 15/B
821 04 Bratislava
Phone contact
+ 421 2 43 19 18 67 + 421 901 796 555
Email
silvia.vancova@lindner-group.com